Thanks Chuck! Note that this is a Thing, a device with I/O and an ARM on board, capable of battery power and wireless communication. But there's no video or audio or mass storage built in. Probably quite a good constrained environment.
Here's the photo of the new board from your newer link: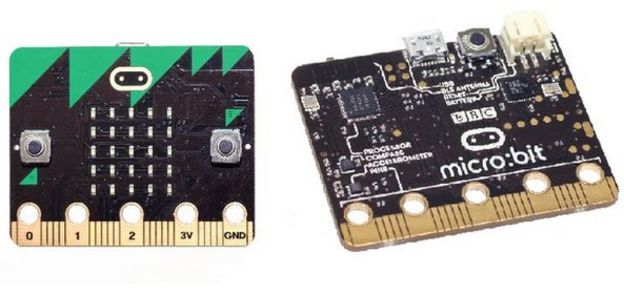 From
http://www.wired.co.uk/news/archive/201 ... -announced
Quote:
The Micro:Bit has changed significantly since it was announced: the device now has a friendly rectangular shape, designed by Shoreditch hardware startup Tech Will Save Us. The board now houses an ARM Cortex M-O processor and an accelerometer and magnetometer, as well as the prexisting 5x5 LED matrix display and two face buttons. It will also offer Bluetooth LE capability, USB, and a combined croc-clip/edge connector, which will allow children to connect the Micro:Bit to similar boards such as Arduino and Raspberry Pi. The coin cell has also been swapped for a AAA battery pack for use when untethered from a PC.
The board will be accompanied with an online coding environment that will include Blockly, Python, and Microsoft's TouchDevelop platform; the BBC has partnered with a number of education startups including CodeClub, Coder Dojo and Decoded to provide educational support for the device.

and here's the older photo and description: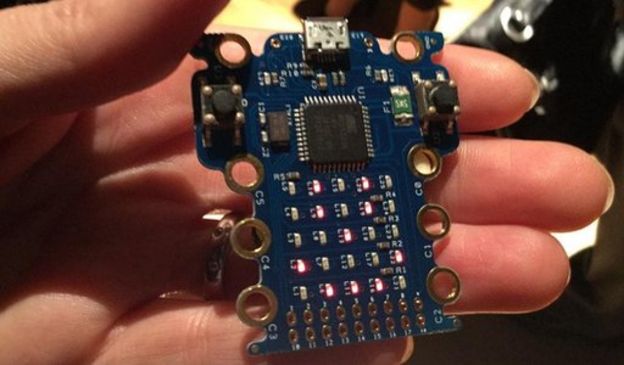 Quote:
The BBC does not see Micro Bit as a rival to similar computing devices such as Raspberry Pi, Arduino, Galileo and Kano, but rather hopes it will act as a "springboard" to these more complex machines.
The tiny programmable machine is still a prototype and the BBC is working with several partners, including chip-designer Arm, Microsoft and Samsung, to get the end product right.
When it launches in September it will be compatible with three coding languages - Touch Develop, Python and C++.
The device is tiny - fitting easily into the palm of a hand. Children will be able to create text via a series of LED lights and they will also be able to use it to create basic games.
The final version will have a Bluetooth link enabling it to be hooked up to other devices such as a Raspberry Pi.